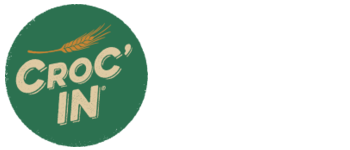 Croc'In is a specialty foods manufacturer of nougatine and premium pastry shells for food professionals (restaurateurs, counter service, and food manufacturers), with an offer of gourmet products in more than 20 countries worldwide.
Manufactured in a manner that reflects our values, our products meet and exceed the expectations of the most demanding professionals in terms of quality.
Our products are nutritionally balanced and our artisanal production methods guarantee taste and exemplary quality. Whether we're talking about our nougatine, made with real almonds, our savoury pastry shells, our POP range with all natural colorants for multiple uses, all our pastry shells combine our value for quality with the needs of food professionals (guaranteed shelf-life, multiple uses, quality ingredients).
Our bakers and pastry chefs come from top professional training institutions and take pride in proposing innovative products such as our Goldies in crispy puff pastry or our range of premium pastry shells made with real Charente Poitou butter, a high quality butter made using traditional methods in the French Loire and Poitou districts.
There are no catalogues to display
Croc'In Belgium - The In Picture
Discover the Belgian company Croc'In through its passionate employees
---
There are no recipes to display